News
PART

I: Overview

In spring of 2014, Operation Grassland Community hosted open houses in Edmonton, Calgary, and Lethbridge, Alberta. These free public events were designed to continue the Conservation Caravan conversation in a common space amongst a diversity of opinions. Held at the ATB Financial Arts Barns, The Lougheed House, and the Southern Alberta Art Gallery, attendees mingled while enjoying fantastic hor d'oevures from Stir Catering, The Restaurant, and LA Chefs.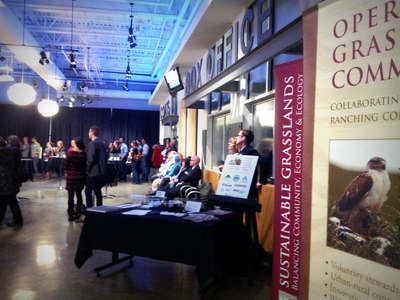 Before the film screening, OGC Communications Director Mara Erickson took to the floor to explain the Conservation Caravan initiative. Erickson pointed out that in Alberta, agriculture and ranching are here to stay—and, given their economic and social significance as well as their contribution to food security in the face of climate change—this is a very good thing. At the same time, consumers are becoming more concerned that food production is sustainable, and that it include the protection of wildlife and their habitats.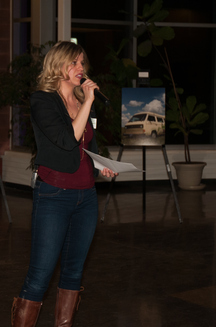 With these multiple demands on the landscape, balancing the needs of society, economy and environment becomes tricky. (For more detailed discussion on this point, see a recent OGC contribution to the Nature Conservancy's Land Lines blog). However, ranching may provide us with one solution. Not many consumers know that Alberta's ranchers are already employing practices that are complementary and even beneficial to the health of our grassland ecosystem
Enter the Conservation Caravan. Bumping along southern Alberta in a retro-VW van, we visit 5 ranches and hear the real-life stories of ranching men and women who are using these very practices. These ranches are just a sample of OGC's partnerships. Ranging from well-established, multi-generational ranches to brand-new enterprises, from conventional operations to grass-finished and direct marketed, Alberta's ranchers have this in common: they not only respect and value the landscape and wildlife it supports, but they steward that land and wildlife as well.
After the Conservation Caravan film, open house attendees viewed a second, complementary film featuring ranchers and urbanites together in conversation during an on-ranch tour and outdoor dinner celebration of local food. The short re-emphasizes the importance of ranching to sustaining the grassland ecosystem, and captures dinner conversations regarding the role of consumers—including the positive potential increased consumer-producer connectivity can present to long-term sustainability of our endangered prairie landscape.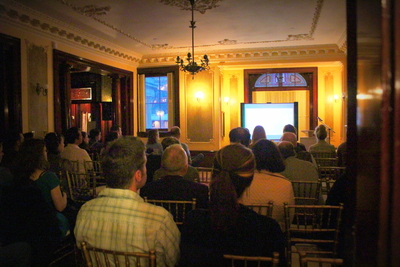 The films' take home messages:
1) The grasslands of North America are one of the most intensively-utilized (i.e., urban, energy development, farming, ranching) landscapes in the world. The loss and degradation of native habitat is widely considered the cause of continental declines in many populations of endemic prairie species.
2) In Alberta, the prairie region represents only 14% of the land base, yet 75% of the province's species at risk are prairie-dependent. Because 95% of this region is either used for farming or ranching, successful protection of prairie wildlife and their habitats will require inclusion of the social and economic realities of these land-uses.
3) Native prairie plants and animals evolved over many millennia with large grazing animals like bison. Today—in the absence of bison—other grazing livestock (e.g., cattle, horses etc.) are actually essential to maintain prairie habitats in a natural and healthy state. Properly managed ranching may provide not only the greatest opportunity to prevent further declines in our prairie populations by sustaining, enhancing, and increasing their habitats, but also to sustain human communities and livelihoods. The problem is that Alberta ranchers generally are not receiving financial compensation for their stewardship actions (i.e., the sticker-price of beef does not include the cost of grassland stewardship).
Click here to read PART II: What's next?